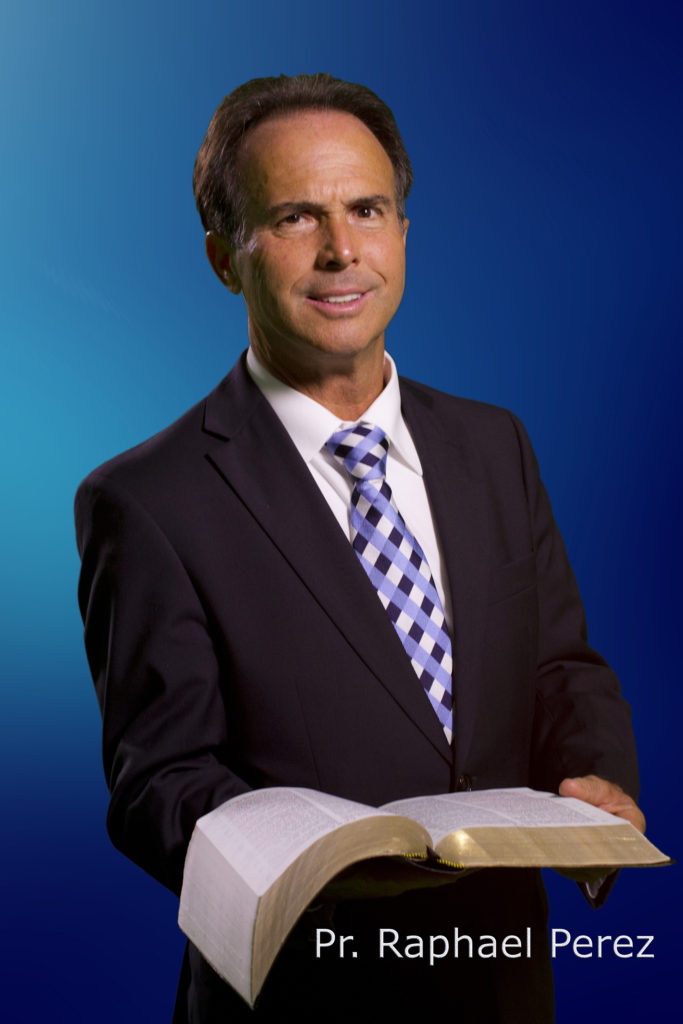 The mission of this ministry is two-fold. We are a Revival ministry, calling our people to return to our historic Adventist doctrines and the principles of our movement. We are also a ministry dedicated to evangelistic work by preaching the end time message as it is proclaimed in the Bible and the Spirit of Prophecy to those that live on this earth. This ministry is dedicated to proclaiming Earth's Final Warning, found in the Three Angels' Messages of Revelation 14:6-12 to "every nation, kindred, tongue, and people." It is only by the grace of God and the support of each of you that we are able to participate in publishing, TV, radio, newspapers, billboards, and foreign missions.
Pastor Raphael Pérez was born in Santiago, Republica Dominicana. In his earlier years he attended San Pius X, a Catholic Seminary hoping to become part of the priesthood. Providentially, during a visit to the United States he was invited to attend a Daniel and Revelation Seminar in Perth Amboy, New Jersey. After embracing the truth of the Three Angels' Messages, he became baptized and completed his pastoral studies at the Universidad Adventista De Las Antillas, located in Mayaguez, Puerto Rico. He is pastor of the Eternal Gospel Church, editor of The Eternal Gospel Herald, and sponsors weekly radio programs.

He has been engaged in a nation-wide campaign for over 20 years promoting the Three Angels' Messages throughout the United State and abroad through printing, billboards, radio, prison ministry, foreign missions, and full-page newspaper advertisements.
MISSION STATEMENT

The Eternal Gospel Church is a ministry that was founded in 1992 by Seventh-day Adventist believers to bring true, genuine, world-wide revival and reformation by proclaiming the Third Angel's Message. The mission of this ministry is two-fold. We are a Revival ministry, calling our people to return to our historic Adventist doctrines and the principles of our movement. We are also a ministry dedicated to evangelistic work by preaching the end time message as it is proclaimed in the Bible and the Spirit of Prophecy to those that live on this earth. This ministry is dedicated to proclaiming Earth's Final Warning, found in the Three Angels' Messages of Revelation 14:6-12 to "every nation, kindred, tongue, and people." It is only by the grace of God and the support of each of you that we are able to participate in publishing, TV, radio, newspapers, billboards, and foreign missions. Please prayerfully consider supporting and helping us to continue in this work
OUR BELIEFS
We teach certain fundamental beliefs which, together with scriptural references upon which these beliefs are based, are summarized as follows: